How to Start a Fundraiser: The Nonprofit's Ultimate Guide
Fundraising comprises a large portion of your nonprofit's funding. Collecting donations empowers your organization to expand its reach and accomplish its mission.
However, it can be intimidating to start a fundraiser from scratch, especially for newer organizations and less experienced fundraising coordinators. Fundraisers require a certain level of organization, a clear strategy, and a lot of hard work to be successful. From creating your initial goals to developing your marketing materials, there are so many considerations that go into starting a fundraiser.
To help you stay on track, we'll teach you how to start a fundraiser by walking you through the fundraising process step by step. Along the way, we'll offer advice on how to pull off the fundraiser of your dreams.
Take a look at the steps we'll discuss to make sure your fundraising plan is complete:
It's our goal at NXUnite to equip nonprofits with the tools and knowledge they need to be successful. Fundraising is such a huge element of nonprofit operations, so it's important to know how to start a fundraiser properly. That's why we've created this ultimate guide to help your nonprofit reach its fundraising goals.
With that, let's jump right into it and learn how to start a fundraiser!
1. Determine Your Goals For Your Nonprofit Fundraiser
To start a fundraiser off on the right foot, it's important to set a focus for your campaign by creating clear goals. That way, you'll build a strong foundation for the rest of the planning process.
The SMART Goal Method
Instead of creating generic objectives, there are some guidelines your organization should follow to make sure your goals are meaningful. The SMART goal model ensures that your goals are action-oriented and targeted to exactly what you want to achieve. Check out the elements of SMART goals:
Specific. Make sure your goals have a clear purpose. It's not enough to say you want to raise money for your cause. Indicate exactly what the money will go towards.
Measurable. In this case, measurable typically refers to a clear monetary value you'd like to achieve. For example, your goal could be to raise $10,000 during the fundraiser. However, it could also be a certain amount of new donors you want to recruit or the number of returning donors you'd like to see.
Achievable. While it's good to be optimistic, you'll also want to be realistic about what your organization can achieve. Don't set your fundraising amount too high or give your nonprofit too short of a time to reach its goals.
Relevant. Keep your organization's current overall goals in mind when determining your fundraising goals. That way, your goals will align and make sense for your nonprofit.
Time-bound. Set a deadline for your goals to motivate your organization to achieve them. Otherwise, you might put them off or not achieve them as quickly as you could.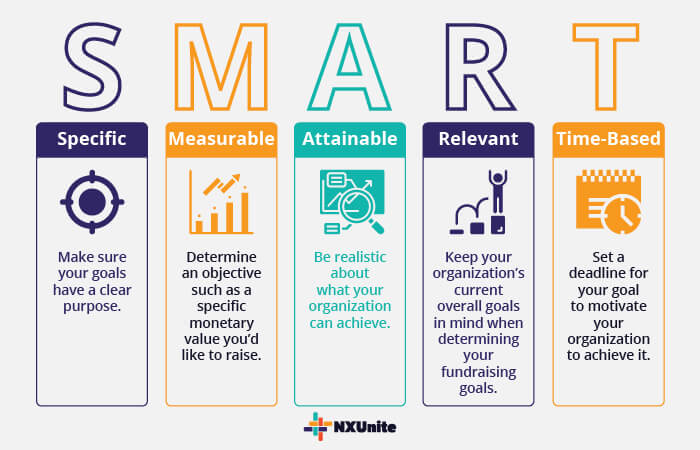 To sum up SMART goals, we'll give you an example to refer to. If you coordinate school fundraisers, your goal might be to raise $100,000 over the course of the school year to help build a new playground. This goal is specific because it indicates exactly what the money will go towards. It's measurable because you've assigned a monetary value to your goal.
Your team must determine whether your goals are achievable by evaluating your resources, but we know this one is relevant because it will add value to the school. Lastly, this goal is time-bound because it must be accomplished by the end of the school year.
Other Considerations For Your Fundraiser's Goals
Now that you know how to create SMART goals, there are two other considerations you'll want to keep in mind:
Your definition of success. This consideration ties into the achievable aspect of SMART goals. Do you want to raise a certain amount of money? Maybe you want to secure new donors or retain a certain amount of donors from your last fundraiser. Whatever the metrics you're using to determine your fundraiser's success, they will help you determine how much you need to raise and how much you could raise realistically based on your organization's size and scope.
The intended impact of your goals. You might know what the money you raise will physically go towards, but why is that project or initiative important? Returning to our school example, maybe your school wants to build a new playground because it will teach kids the importance of being active. Illustrating this intended impact of the playground when you're marketing your fundraiser will create a more compelling call to action for potential donors.
Putting thought behind your goals will set your campaign up for success before it even starts by giving participants something to work toward. Once your fundraising goals are solidified, it's time to choose what your campaign will look like.
2. Select a Fundraising Campaign Type
Once your fundraising goals are solidified, it's time to choose what your campaign will look like. There are a wide variety of available options for nonprofit fundraisers. Depending on your goals, budget, and resources, you can select the type of campaign that best suits your organization's audience and needs.
To make it easier to plan your campaign, we've divided some of the top nonprofit fundraising ideas into the general categories of online and offline initiatives. Of course, some of these ideas are flexible and can be hosted in either sphere. Additionally, you might choose to combine multiple campaigns to expand your fundraising capabilities—it all depends on what you hope to accomplish!
Online Fundraising Campaigns
A major advantage of online fundraising is that it breaks down geographical barriers, making it possible to connect with more supporters no matter where they live. These campaigns are also convenient for your supporters since they can participate from anywhere.
Here are a few online fundraising campaign types to get you started:
Crowdfunding. Leverage the power of social media and gain support from a wide range of people using a crowdfunding campaign. You can request small donations that add up to your goal and ask that followers share your campaign page with their friends and family to engage even more supporters.
Text-to-give. Make donating online even easier by meeting supporters where they probably are—on their phones. When a donor texts a keyword to your organization's five- or six-digit shortcode, they'll receive a link to your online donation page, where they can quickly fill out the form and make their contribution on the go. To make the most of your text-to-give campaign, ensure your donation page is optimized for mobile use.
Matching gifts. Matching gifts are a popular form of corporate philanthropy that allow you to double many of the donations you already receive. When a supporter who works for a company with a matching gift program contributes and submits a match request, their employer will donate the same amount. Embed your matching gift tool directly into your online donation page to prompt donors to check their eligibility and submit match requests.
Online shopping. Online shopping fundraisers allow supporters to contribute to your nonprofit by doing something they were probably going to do anyway: purchase everyday items from their favorite e-commerce sites. You likely heard of (or even participated in) AmazonSmile before its 2023 discontinuation, but there are alternative platforms your organization can still leverage to run a similar type of campaign.
The one downside of online fundraising is that it's often more difficult to form lasting connections with campaign participants. That's why it's especially important to follow up with supporters and say thank you after they contribute online.
Offline Fundraising Campaigns
Many people prefer the personal touch of offline interactions, which is where more traditional fundraising methods excel. Plus, offline campaigns can often be combined with online ones or converted to a hybrid format if some supporters would still like to participate online.
Some popular offline fundraising campaigns include:
No matter which combination of online and offline fundraising campaigns you try, take steps to get your supporters excited about their involvement with your organization.
3. Develop a Fundraising Plan
An effective fundraising plan will keep you organized and on track. It will serve as your roadmap and ensure you have everything you need to make your campaign successful.
To make sure your fundraising plan is comprehensive, here are the elements yours should include:
Goals. Start off your fundraising plan by adding the SMART goals you developed earlier. These goals will guide the rest of your fundraising plan.
Case for support. You'll want to craft a compelling reason for why donors should support your cause. It's best to make this specific to the initiative or project you're raising money for.
Campaign type. Once you figure out which fundraising campaign you're moving forward with, indicate that in your fundraising plan. Again, you can use any combination of the ones we've listed previously or others you come up with.
Marketing channels. Choose which marketing channels are best for your campaign. Examples of marketing channels include social media, email, and your organization's website.
Timeline. Before starting a fundraiser, set a definitive timeline for your campaign. It might help to develop a campaign calendar to plan out the work that must get done each week.
Budget. Figure out how much you need to spend to make your fundraiser a reality. Think about the costs of fundraising events and initiatives ahead of time so you only spend what you need to.
Corporate sponsors. There are many philanthropic companies willing to assist nonprofits by sponsoring their events, offering matching gifts, and providing in-kind services. Identify how you'll narrow down potential sponsors for your fundraiser and craft compelling proposals for support.
Team members. Determine which members of your team will be part of this fundraising project and how much external support you'll need from volunteers. You'll want to delegate responsibilities to them so everyone knows what to do.
Incorporating all of these items into your fundraising plan will set clear intentions for your fundraiser, making it easier to move along with the planning process.
4. Choose the Appropriate Software Before Starting a Fundraiser
Fundraising software is necessary for your fundraiser to run smoothly. From accepting online donations and processing payments to managing donors and volunteers, there are so many aspects of your fundraiser that require software.
Events are one area where software can come in handy. You'll likely want to take advantage of fundraising software to register and check in event attendees. If your event is virtual, you can provide a link or QR code to participants to make the process easier.
There are also specific platforms for certain types of fundraisers. For example, if you're hosting a peer-to-peer fundraiser, you'll want to look into peer-to-peer software, which enables your supporters to securely create individual fundraising pages to share with their networks.
If your organization already uses donor management software, find fundraising software that integrates well with the platform you use. That way, you can automatically import information about your new donors, saving your team time and energy. Later on, you can use that data to reach out to donors and shape future fundraising campaigns.
With fundraising software secured, you're ready to move on to the next step in how to start a fundraiser.
5. Create Marketing Materials To Promote Your Fundraiser
Nonprofits need to come up with cohesive marketing strategies in order to promote their fundraisers effectively. Think about your campaign as a single story you want to tell. Every promotional material should work together in pursuit of your goals.
It can be difficult to create effective marketing materials on a budget, that's why it's essential to use the free or discounted marketing tools to empower your mission. This way, you'll create stunning designs that are also cost-effective. With this in mind, here are some additional tips that will help you elevate your materials:
Focus your marketing on the impact your fundraiser will have. Of course, you'll want to tell potential donors exactly what their money will go towards, but you'll also want to highlight the underlying benefits of the project you're funding. Make it clear why this project or initiative is important and what will happen if you don't achieve your fundraising goals.
Using multiple different marketing channels will allow you to reach a broader audience. While you'll want to tell the same cohesive story to all of your supporters, remember to adapt your message and content to each channel. For example, your social media campaign might feature short videos explaining the fundraiser while your website might contain an entire page dedicated to the fundraiser.
No matter which marketing channels you leverage, having well-designed images can help your marketing materials stand out. People are more drawn to images than words, and eye-catching designs can convey more information than you might think. Plus, images can break up large chunks of text to make it easier to read.
Feature your corporate sponsors. Corporate sponsorships can provide immense value to your nonprofit, but remember that they're mutually beneficial relationships. Therefore, include the companies' logos and details in your marketing materials to recognize them for their support and pave the way for long-lasting partnerships.
If your team has trouble creating its marketing materials, consider outsourcing the design work to a third-party graphic designer. We highly recommend Kwala, a nonprofit-focused graphic design company. By exclusively working with nonprofits throughout the years, they've become well-versed in what it takes to design materials that inspire support.
From social media graphics to fundraising flyers, Kwala can help bring your visions to life and spread awareness for your fundraisers in no time. Take this event invitation they created for the Wildlife Rescue Group for example:
Whether you want artistic drawings or more realistic designs with stock photos, they'll work with you to create the perfect promotional materials for your next fundraiser.
Once your marketing materials are ready to go, it's time to share them with your supporters!
6. Promote Your Nonprofit's Fundraiser
Your fundraiser could be for an outstanding cause with an organized fundraising plan behind it, but if no one knows about it, you won't reach your fundraising goals. Promoting your fundraiser will attract new and previous donors to contribute to your cause.
As we alluded to before, your organization can use many different marketing channels to spread the word about your fundraiser. Use any combination of the ones we've listed below:
Email
You can't go wrong with email marketing. It allows you to reach new and previous supporters and send a variety of different communications related to your fundraiser. Whether you're informing subscribers about your fundraiser in your newsletter, inviting supporters to a fundraising event, or thanking donors for their contributions, email is an effective way to communicate about your fundraising efforts.
Website
Your organization's website is the home base for anything and everything about your nonprofit, so it's a great place to include details about your fundraiser. Potential supporters will get the opportunity to look through other pages on your site to learn more about your organization before they lend their support.
Peer-to-Peer Outreach
One underutilized marketing tool is your supporters. Your existing donors and volunteers are some of your nonprofit's biggest ambassadors. A genuine referral from one of them can go a long way in amplifying your fundraiser. Have them post about your campaign online and text their friends, encouraging them to donate to your fundraiser. You can even design event invitations or fundraising eCards they can use to challenge others to give to your campaign.
Learn more about designing donation and cause awareness greeting cards for your cause by exploring eCardWidget's charity eCards guide.
Blog
If your nonprofit has a blog on its website, consider posting an article about the fundraiser. You could introduce or recap a fundraising event or provide an update about how much money you've raised so far.
Social Media
Social media is a great place to promote your fundraiser because your supporters can repost your content and share it with their own networks. You can also use social media as a chance to have some fun with your fundraiser's promotion by playing into current trends and making short videos about the fundraiser with your team.
Press Release
See if any local media outlets will share a press release about your fundraising events. That way, you can reach members of your community who may know nothing about your organization.
Related Organizations
Ask your corporate partners, local businesses, or other related nonprofit organizations to help you spread the word about your fundraiser.
Google Ad Grants
The Google Ad Grants program provides nonprofits with $10,000 per month in Google Ad spend. As long as your organization is eligible, you can apply to the program and leverage Google Ads for free to promote your fundraisers and cause.
For help with applying for the program and managing your account, reach out to a Google Grant agency. A professional can take charge of your campaigns, so you can focus on other aspects of your fundraisers instead of writing ad copy.
Takeaway: The best marketing campaigns use multiple marketing methods. As long as you make the effort to interconnect each channel and communicate a cohesive message, leveraging multiple marketing channels will help you reach a larger audience.
7. Thank Donors For Contributing To Your Fundraiser
It's always important to thank your donors, especially directly after they've made a donation. New donors can become life-long members of your community if you put in the effort to form relationships with them. Additionally, you can keep previous donors coming back by showing them you appreciate them.
The way you create a positive experience for donors is through effective donor stewardship. While 55% of US donors prefer to be thanked for their contributions via email, there are several ways to practice proper donor stewardship and leave a lasting impression:
Thanking donors by emailing them or calling them directly after they donate
Sending donors personal thank you letters with tax receipts
Treating donors with respect and care
Maintaining frequent communication with donors across marketing channels
Inviting donors to stewardship events
Sending donors reports that illustrate the impact they've made on your organization
Donor stewardship ensures that your organization creates and maintains strong relationships with your supporters. That way, your nonprofit can expand its network and build a community of supporters to work with and rely on when you start future fundraisers, projects, and initiatives.
Don't overlook other supporters at this stage either! Recognize volunteers for any time and skills they used to make your fundraiser successful too. Sending a personalized eCard or quickly calling them can leave a positive impression. Additionally, take the time to publicly acknowledge your corporate sponsors for their contributions. You can do this with a sincere thank-you post on social media.
8. Assess the Results of Your Nonprofit's Fundraiser
After your fundraiser, it's essential to go back and look over your goals to see if you've accomplished them. This final step is important because it allows you to take the lessons you've learned from this campaign and apply them to your next fundraiser.
A great way to assess the results of your fundraiser is to ask your donors or event attendees for their feedback by sending them a survey. That way, you can get another perspective on what worked and what didn't from fundraiser participants rather than leadership.
Additionally, there are some questions you'll want to review with your fundraising team to evaluate your success. These questions may include:
Did you meet your initial goals?
Which marketing methods were most successful in achieving your goals?
Which marketing methods were unsuccessful?
Did you set an appropriate budget?
What were some successes that you should replicate when starting your next fundraiser?
What were some failures or shortcomings that you should avoid for your next fundraiser?
Are there any ways you could have used your resources more efficiently?
Taking the time to reflect upon your fundraiser will make your next one even more successful. Even though your team is likely busy with other projects, putting in a little time now means you'll save time later in the planning process for future fundraisers.
Conclusion & Additional Resources
Now that you know the steps for how to start a fundraiser, it will be easier to stay organized and get the job done. Each time you host a fundraiser, you'll get more familiar with the planning process, leading to more successful fundraisers.
In this guide to how to start a fundraiser, we touched upon many different considerations that go into fundraiser planning. We know you might have some further questions about how to host an effective fundraiser, especially if you're a first-timer.
To help you out, we've compiled a list of resources that go beyond the basics of starting a fundraiser. These articles tackle more specific fundraiser tips and tricks that will help you along your fundraising journey. Check them out below:
https://nxunite.com/wp-content/uploads/2022/07/How-to-Start-a-Fundraiser_Feature-1.jpg
370
700
developer
https://nxunite.com/wp-content/uploads/2023/09/NXUnite-by-nexus-marketing-White-3.svg
developer
2023-08-05 10:45:00
2023-09-08 09:46:27
How to Start a Fundraiser: The Nonprofit's Ultimate Guide