Google Ad Grants: Frequently Asked Questions Answered
If you've been in the nonprofit fundraising world a while, you've probably heard of Google Ad Grants. For those who are unfamiliar, Google Ad Grants is a program created to help out nonprofits with their marketing and fundraising efforts by increasing their visibility online.
Participating organizations receive $10,000 per month to spend on Google Ads. These funds allow nonprofits of all sizes to grow their online presence and get more conversions.
It's shocking how many nonprofits don't already leverage the program. As long as your organization meets Google's eligibility requirements and follows all rules of the program, you should have no problem getting into the program and staying enrolled.
Whether you're looking to increase site traffic or connect with new prospects, leveraging Google Ad Grants is an effective way to reach your organization's goals.
Whether your organization already leverages Google Ad Grants or has never heard of the program, we're sure you have some questions. To clear up any confusion about the Google Ad Grants program, we've grouped the questions you likely have into these categories:
Here at NXUnite, we're always looking for new fundraising ideas that we can share with nonprofits, and Google Ad Grants is one of the most successful ones we've found. We've got a lot of questions to cover, so let's dive right in!
What Are Google Ad Grants?
For those of you who are new to the program, we'll start with the basics. The Google Ad Grants program gives eligible nonprofits $10,000 per month to spend on Google Ads. These ads typically appear at the top of relevant Google searches, allowing your organization to grab potential donors, subscribers, and volunteers' attention.
To help you visualize Google Ads in action, we'll give you an example. Say you're a huge animal lover looking to make a difference. You might search "animal shelter" or "animal shelter near me." From there, you'd likely see a Google Ad for a local animal shelter you can volunteer with or donate to in addition to other related resources.
While for-profit organizations can run Google Ads as well, Google Ads for nonprofits are a little different. To participate in the Google Ad Grants program, organizations must meet the eligibility requirements. Additionally, those who do not qualify for the program have to use traditional Google Ads and pay per click for their ads to run.
With the money granted by Google, nonprofits can bid on specific keywords and promote certain pages of their websites. Organizations choose which pages to promote based on their current goals. For example, if your organization has an upcoming event, you may want to highlight your event registration page.
Now that you have the gist of the program, it's time to learn about its benefits in greater detail.
What Are the Benefits of Google Ad Grants?
If you're going to spend time researching and applying for this program, you'll want to know how it can benefit your organization. Take a look at the benefits Google Ad Grants could have for your nonprofit:
More engagement on your site.
To attract people to your organization, you'll want to make sure you have the proper content on your website. However, your content could be great, but if potential supporters can't find it, then it's not serving its purpose.
The Google Ad Grants program helps to get the right web pages in front of the right people. For example, someone searching "donate to climate change donations" is likely looking for a place to contribute monetarily. As a result, you can use funds from your Google Ad Grant to promote your site's donation page to this audience.
More conversions.
While you might associate conversions with sales and other related for-profit activities, nonprofits can also track conversions to measure outcomes and reach. Increasing conversions means that more people will be interacting with your site in the way that best suits them. Here are some examples of online conversions your nonprofit might track:
Donations
Volunteer signups
Ticket sales
Event registrations
Petition signings
Email list registrations
To increase site engagement and boost conversions, having the right content is key. If you don't have the proper pages for meeting your conversion goals, then it will be difficult to increase conversions. However, once you create that content, Google Ad Grants can help you promote it accordingly and get it in front of the right audience.
Improving communication with your supporters.
Even with endless communication tools including email, calls, and social media, it can be difficult to interact with your supporters and share new information with them. Some people might feel overwhelmed with all the communication they receive from an organization. Others might be too busy to give your communication any attention.
Although Google Ad Grants don't replace traditional communication strategies, they can enhance them. They provide a way for supporters to stay up to date on your content in a way that fits their own schedule and needs.
More information about your supporters' goals.
Increasing communication effectively means understanding what information supporters need from your site. Using Google Analytics, you can see which pages users visit and what actions users take to learn more about which aspects of your organization are important to your supporters.
Since Google Analytics provides you with useful data about your campaign performance and website interactions, you can use that information to optimize your content and consequently increase engagement.
No competition for funding.
Google Ad Grants are not like traditional grants. While other grant programs have a limited amount of money that they distribute based on organizations' needs, the Google Ad Grants program gives the same amount to all eligible organizations.
As long as your organization meets the program's requirements, you will receive $10,000 worth of ad credits per month. This allows your organization to put more energy into using the grant effectively as opposed to stressing about how much funding you will receive.
What Can You Use Google Ad Grants to Accomplish?
Going into the Google Ad Grants program, it's important to think about your goals as a participating organization. What pages do you want to promote? What conversions would you like users to make? These are some questions you may want to answer before applying.
To get you thinking, here are some reasons nonprofits use Google Ad Grants:
To collect donations from current and potential donors
To spread awareness about your organization's cause
To recruit volunteers for upcoming opportunities
To share information about upcoming events and sell tickets
To add subscribers to your email list
To encourage users to take certain actions like engaging with your social media or signing a petition
The possibilities are endless with what you can use Google Ad Grants to accomplish as long as you define your goals ahead of time.
Is It Free to Participate in the Google Ad Grants Program?
As long as your organization is eligible for the program, it is free to participate! You must also follow the application process and stay compliant with all requirements once you accepted into the program.
Although the program is free for eligible organizations, determining your eligibility, applying, and preparing your account can be very time-consuming. If you want to participate in the program but don't have time to figure out the process yourself, consider hiring a Google Grants agency. They will do all the hard work for you so you can focus on your goals as a participating organization.
How Large Does Your Organization Have to Be to Participate?
There's no organization size minimum or maximum for participating in the Google Ad Grants program. Any nonprofit can benefit from the program and its opportunities to grow its online reach. Even small nonprofits will be able to access the program's benefits, including increased engagement, more conversions, and greater knowledge about their supporters.
Google Ad Grants are great for smaller nonprofits because they allow opportunities for those organizations to grow as they expand their audience. However, if your organization is brand new, you might have to wait a few months to be eligible for the program. In the meantime, it will be helpful to learn more about the program and prepare your goals for participating in order to make the process run more smoothly once you're eligible.
Which Types of Organizations Are Eligible for Google Ad Grants?
Since it's free to participate in the program for any size organization, Google specifies several requirements that nonprofits must meet to be eligible for the program. The guidelines vary slightly based on your country, so be sure to check the unique requirements for your organization's location.
The eligibility requirements are as follows in the United States:
Register with the IRS as a charitable organization. In order to be a valid charitable organization, you'll need to have 501(c)(3) status, exempting you from taxes. For verification of your organization, Google also requires you to register your organization with TechSoup.
Accept the terms and conditions of the program. There are general Google for Nonprofits terms you'll have to agree to as well as Google Ad Grant-specific certifications.
Own your own domain and feature relevant content. Since you will be using Google Ad Grants to promote pages on your website, Google has some website requirements. These include owning your domain, featuring unique content, and including accurate information about your nonprofit's purpose.
Obtain an SSL certificate. Google wants to make sure your website is secure before they promote it, so they require Secure Sockets Layer (SSL) certification. If you have installed it correctly, there should be a lock icon in the navigation bar in Google Chrome, and your URL will include https:// instead of http://.
If your organization follows these requirements, you should be good to participate in the program. However, the following organizations are automatically ineligible for the program:
Governmental agencies and organizations
Hospitals and healthcare institutions
Schools, academic institutions, and universities
Google prohibits these organizations from participating in the program. However, if your organization falls under the last category, you may be able to participate in Google for Education, a similar program specifically for educational institutions.
How Do You Apply for Google Ad Grants?
Applying for Google Ad Grants for nonprofits isn't complicated, but we've broken down the process into steps to simplify it even further. Here's a step-by-step guide on how to apply for Google Ad Grants: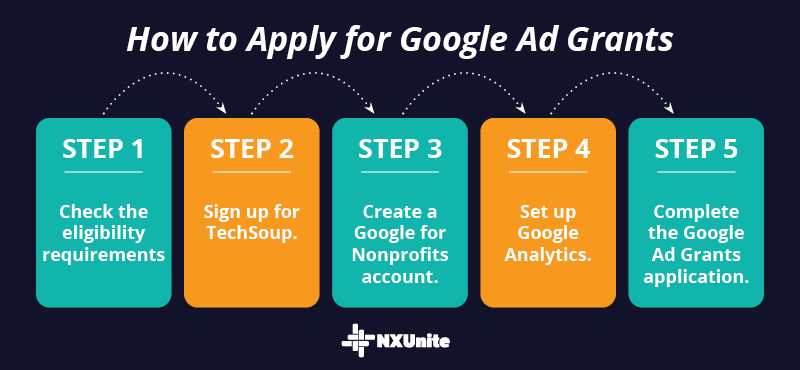 1. Check the eligibility requirements.
As we just went over, there are several eligibility requirements for participating in the program. Before you apply, you'll want to make sure you qualify and take any actions necessary to become eligible. This way, you can make sure the application process goes smoothly and avoid having your application rejected.
2. Sign up for TechSoup.
Once you've determined that your organization is eligible for the program, the next step is signing up for TechSoup. TechSoup is an organization that works with Google and other companies to give nonprofits access to helpful resources at discounted rates.
In order to register with TechSoup, follow these three easy steps:
Go to the TechSoup registration page and create an account.
Select your preferred language and the country where your organization is located.
Click 'New Member,' select 'Register,' and agree to TechSoup's terms.
After you complete this process, TechSoup will give you a validation token that you'll need to activate your Google for Nonprofits account.
3. Create a Google for Nonprofits account.
Google Ad Grants is just one of the resources Google provides under the umbrella of Google for Nonprofits. When you create your Google for Nonprofits account, you'll be able to access:
Google Workspace for Nonprofits, which grants your nonprofit access to Google's suite of apps including Gmail, Docs, Sheets, Calendar, and Meet.
YouTube Nonprofit Program, which enhances your YouTube account for the nonprofit space with features like a donate button and video annotations that link to your website.
Google Earth and Maps, which allows people to find programs and resources near them.
In order to create an account, make sure you have your tax ID number, contact information, and TechSoup validation token on hand.
4. Set up Google Analytics.
It's essential for your website to have Google Analytics connected to it before applying for Google Ad Grants. Circle back to the goals you have for participating in the program. This is where you'll put them to work!
You should install Google Tag Manager and create some conversion tracking goals for your site that align with your goals for participating in the program. For example, you might want people to do one or more of the following:
Sign up to be volunteers
Register for an event
Donate to your nonprofit
Sign a petition for your advocacy campaign
Spend a certain amount of time on your website
Adding these goals to Google Analytics will allow you to track which pages are most successful in acquiring conversions. It will also allow you to recognize which pages need some work so that you can adjust them accordingly.
5. Complete the Google Ad Grants application.
Now that the preliminary steps are complete, it's time to actually fill out your Google Ad Grants application. You'll have to log in to your Google for Nonprofits account to access it.
Part of the application process includes submitting your website for review. The Google Ad Grants team will look over your website and its content to see if your organization is ready for the program.
Another thing to consider about your application is whether you'll choose to start a "Smart Campaign" or "Classic" account. "Smart Campaign" is a more basic option with automated settings. It requires less management whereas the "Classic" account has more tools and customization options included.
Finally, Google will review your application and respond within three business days. When Google approves your account, you'll automatically be able to access and start using Google Ads to amplify your organization's most important web pages.
How Do I Use My Google Ad Grants Account Successfully?
Now that you have your Google Ad Grants account, you'll want to make sure you're getting the most out of it. The way to do so is to have a well-thought-out plan for how to develop and implement your ad campaigns.
While Google Ad Grants will certainly increase your website's visibility, it's the work you put into optimizing your account that will allow you to see the best results. Here are some ways to make sure your account is successful.
1. Create good content.
It's easier said than done, but creating good content for your website is an integral part of your success with the Google Ad Grants program. Without good content, it doesn't matter how much traffic comes to your website because users will be less likely to make conversions once they see your pages.
There are a couple elements your content should have to increase its value, including:
Topics with high search volume. Your content could be well written and engaging, but if no one's searching for it, then it doesn't matter. Make sure to feature content with popular topics that will help people find your site. For help with figuring out how topics rank, look at Google Trends or Moz to research keywords.
Focus. People typically only search for one topic at a time, so you'll want to design your page to reflect that. Spread your content out so that each page has its own focus.
Built-out pages. On the other hand, you want to make sure your content on each page is substantial. This is not only crucial for user experience but also for how Google ranks your page. You'll also attract more users if your pages actually contain helpful information people are looking for.
Calls to action. You've created your conversion goals, and now you want to make it clear to users what you want them to do in reference to those goals. For example, if you want people to register for an event, make sure to include a button or a link that will take them to your event registration page.
Mobile friendliness. More and more searches these days come from mobile devices. Therefore, it's important to ensure that your content is mobile friendly so that people can access it in the format you intend for them to. Additionally, mobile friendliness is one of Google's ranking factors for organic traffic, which you'll want to keep up in addition to your Google Ads.
The better your content is, the more people will flock to your website. Hopefully, this increased traffic leads to more conversions, which are important to measure and analyze to make continuous progress for your mission.
2. Track your campaign goals.
Data should be the guiding force in making decisions about your Google Ad Grants account, and lucky for you, there are tools at your disposal to help you use data effectively.
To get the most out of your Google Ad campaigns, you'll have to set up conversion tracking and data analytics. These tools are included within Google Analytics, which you should already have installed. Use Google Analytics to set up goals so that you can track your campaign performance accordingly.
As we've gone over before, your goals for participating in the program are what shape how you will use Google Ad Grants to your advantage. You'll want to track these goals to make sure you're accomplishing them and adjust your website if you're not performing as well as you had hoped. Ideas for goals are:
Signing up for your email list
Making a donation
Submitting a volunteer registration form
Buying a ticket for an event
Signing a petition
For each goal that you have, you'll want to set up conversion tracking in Google Analytics. That way, you'll be able to see how well your goals are panning out and make necessary changes.
3. Get to know your audience.
The Google Ad Grant program has ways for you to limit who your ads are shown to. To take advantage of this feature, you'll want to define your intended audience and keywords for each campaign. That way, you can ensure that each campaign is focused and reaching the people you want it to reach.
To get to know your audience, it's also helpful to do some keyword research. Once you know exactly what people are searching for that's related to your page, you'll have a better idea of what keywords to include in your own content that will help them show up in searches.
If you have an idea of what your audience isn't searching for or what unrelated audiences are searching for, use negative keywords. Unlike regular keywords, negative keywords are used to prevent your content from showing up in searches that contain certain words.
Once you've been using Google Analytics for a while, you can start to look through the search queries of people who visit your site to see which ones don't result in conversions or aren't related to your nonprofit. This process will allow you to add more negative keywords to your list and only show up for relevant searches.
4. Use other marketing efforts.
Google Ad Grants are certainly a powerful marketing tool, but don't forget about what else is out there! Continue your usual marketing activities, whether that's regularly posting on social media or sending out email newsletters once a week. The data you collect from your Google Ad Grants campaigns will also be useful to consider for these marketing methods as well.
Additionally, your Google for Nonprofits account gives you access to other marketing tools that you can leverage. For example, the YouTube Nonprofit Program makes it easier to fundraise on YouTube by teaching you how to create effective campaign videos and equipping your account with a donate button.
5. Focus on quality.
Although the program gives you $10,000 a month in ad spending, most nonprofits don't use it all. This may be because some organizations don't have enough time or resources to manage multiple campaigns. Alternatively, others may not have content geared toward their audience's needs and therefore aren't getting good results.
Whatever the issue is, you can still spend only a portion of what Google provides and have a successful Google Ad Grants account. For example, your audience may be specific to a certain area or interest that may allow you to reach it without spending the full amount of money.
In conclusion, remember to focus on the quality of your content and its ability to create conversions as opposed to haphazardly using all the funds Google provides.
How Do I Maintain My Google Ad Grants Account?
Maintaining your Google Ad Grants account is an ongoing process. You'll want to make sure you're using the funds Google provides effectively and that your campaigns reflect the data you've collected. Check out our suggestions for keeping your Google Ad Grants account strong:
Run at least 3-5 campaigns. When you start using Google Ads, get a feel for how many campaigns your organization can manage at once. Less than three won't be enough to show results, but too many campaigns might overwhelm whoever's managing your account. You'll want to have multiple campaigns to promote different aspects of your website. For example, one campaign might highlight your donation page while another simply promotes your homepage with background information about your cause.
Connect your ad groups to your cause. Like your website's landing pages, you'll want to make sure your ad groups are focused on their respective topics as well as your organization's mission. For example, if you're an animal shelter looking for volunteers, your Volunteer ad group should include keywords like "volunteer at an animal shelter," "work with cats and dogs," and "help animals get adopted."
Use ad extensions to your advantage. Ad extensions invite users to click on your content by providing them with extra information. There are several different kinds of ad extensions. An example is callout extensions, which allow you to add bullet points under your ads to highlight what's important.
While creating your account was easy, maintaining might be more complicated than you originally anticipated. Not to worry though! This just means you might benefit from the help of a professional agency. Google Grants agencies can save you time and energy by managing your Google Ad Grants for you.
What Are the Google Ad Grants Account Rules?
Just as Google has certain requirements for creating a Google Ad Grants account, they also have rules for keeping your account active. It's important to follow these rules to not only run your account successfully but to also avoid suspension.
Google lists out the requirements for compliance in its official compliance guide, but we've summarized some of the most important ones below:
Avoid using single-word keywords unless it is on this list of approved exceptions.
Don't use overly generic keywords.
Only use keywords with a quality score higher than 2.
Maintain a 5% monthly clickthrough rate (CTR).
Set up conversion tracking with Google Analytics and Google Tag Manager.
Create at least 2 ads per ad group and at least 2 ad groups per campaign.
Include at least 2 sitelink ad extensions.
Answer the yearly program survey.
To stay on top of these rules and any potential changes to them, make sure to regularly check the Google Ad Grants compliance page. You may want to bookmark it or schedule time on your calendar each month to review it. A Google Ad Grants agency could also answer any questions you may have about the program's compliance requirements.
Why Was My Google Ad Grants Account Suspended?
As long as your account remains compliant with the program's requirements, it will renew monthly, requiring no further action. However, not maintaining your account's compliance could put your account at risk of suspension.
Take a look at some of the most common reasons Google Ad Grants accounts are suspended besides the compliance rules we've reviewed:
Violating the program's terms multiple times
Not meeting eligibility criteria
Losing 501(c)(3) tax-exempt status
Abusing the ad network
Not reverifying your account when asked to do so
Falsifying information about your organization
If your account does get suspended, don't panic! A Google Ad Grants agency can help you to figure out the problem and how to solve it to get your account back.
Can Someone Help Me Manage My Google Ad Grants Account?
Yes! If you're at all confused or need help in any step of the Google Ad Grants process, a Google Ad Grants agency is equipped to help you out.
You could turn to a regular nonprofit marketing consultant, but for the expertise you're looking for, a Google Ad Grants agency would be a better choice. Since they spend all their time working to manage Google Ad Grants, they have the knowledge of and familiarity with the program that you're looking for.
Google Ad Grants agencies will manage the entire grant management process, including:
Determining your Google Ad Grants eligibility
Applying for the program
Researching keywords
Managing your campaigns
Maintaining your account's compliance
Optimizing your pages
Reactivating your account if it is suspended
Whatever you're having trouble with, Google Ad Grants agencies are the best source of help for your questions about the program.
What Else Do I Need to Know About Google Ad Grants?
By now, we hope you feel like an expert on Google Ad Grants! Now that you know all about what they are, how you can use them, and how you can manage your account, you have all the tools you need to be a successful participant in the Google Ad Grants program.
However, we know you might have even more questions that we weren't able to cover. In case that's the case, here are some resources that can help:
https://nxunite.com/wp-content/uploads/2022/07/Google-Ad-Grants_Feature.jpg
370
700
developer
https://nxunite.com/wp-content/uploads/2023/09/NXUnite-by-nexus-marketing-White-3.svg
developer
2022-07-19 18:49:50
2023-05-01 15:11:17
Google Ad Grants: Frequently Asked Questions Answered